Hemisha Shah is the winner of The 3 Minutes Poetry and Storytelling Live Competition; Shreya Sinha, Ruchi Rachit Singla, Smilee Prashant Bhatt win hearts.
India's Favourite and most interactive book awards – Cherry Book Awards in association with India's most trusted Media Agency, Digital Golgappa conducted, "The 3 Minutes Poetry and Storytelling Live Competition" held in the first week of August 2022.
About the competition :
This competition aimed to encourage talents from the writing field. Every participant had a maximum time of 3 minutes to recite their poem or narrate their story. The contest was live on Zoom and the recording is premiered live on YouTube by Indian Stories Live. The winner was decided by the jury member, Sneha Narayanan.
About the Dignitaries :
Jury Member = Sneha Narayanan is Amazon's #1 Bestselling Author of Bloom and blue tick verified poet and artist
Host = Amrita Singh is a popular book reader, blogger, and reviewer. She is also working as a Client Relationship Manager with Digital Golgappa.
Referee = Pooja Senthilkumar is an Award-winning Author and a World Record Holder. Her recent literary work includes, 'The Guide to Glee'
About the Participants :
There was a tough battle between the four talented writers.
1) Ruchi Rachit Singla hails from Haryana, India. She is a passionate writer whose poetry focuses on unsaid heartfelt words and also she is a compiler of eight anthologies.
2) Smilee Prashant Bhatt is an amazing writer who has written 100+ poems, micro tales, short stories, and all the other genres. She is a co-author of 100+ anthologies, a compiler of 6 anthologies, and the recipient of several literary awards.
3) Shreya Sinha hails from Bihar, India. She is currently doing graduation in English Literature.
She runs her own YouTube Channel under the title 'Art of Writing By Shreya Sinha'.
4) Hemisha Shah is an Auricular and Acupressure therapist
And a National level writer.
She is also the Brand Ambassador of story mirror.
After the performances of the above participants, the jury member announced the winner of this super interesting competition. Sneha Narayanan revealed that the margin of victory was just 0.1 marks.
About Hemisha Shah – Winner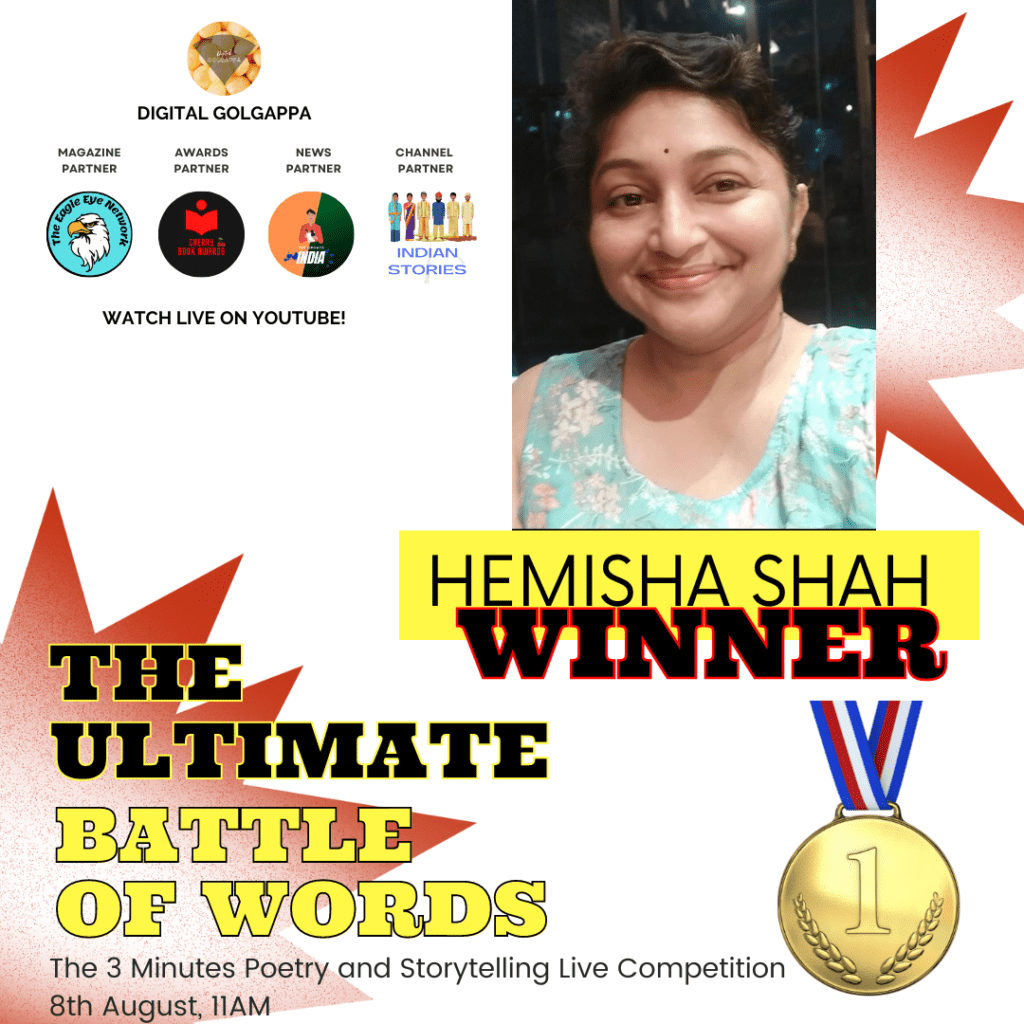 Hemisha shah is an Auricular and Acupressure therapist
And a National level writer.
She is also the Brand Ambassador of story mirror. She is a recipient of many awards at the national level and international levels including;
Author of the year -2021(2nd)
-Bravo world record holder
-Guinness book of world record ( participant)
-India book of record holder
-Fb Ratna award holder
-"Sahitya samaan" from Jaipur
-Sahity Ratna awards 1st rank at the national level
-Golden Book of Record holder
She is a published Author and compiler of 3 books. A co-author of 14 books
And she has self-published 2 books . She is also been featured on various media sites for her literary works
Partners :
Award Partner: Cherry Book Awards
Magazine Partner: The Eagle Eye Network
News Partner: The Update India
Channel Partner: Indian Stories Live
Watch the video of The Ultimate Battle of Words here: